MMMmmm Pretzel Bread
WELCOME TO OSCAR"S TAVERN!
How are you today?  Come on in and sit down, there's a stool waitin' for ya right here!  Boy its cold out today huh?  Well today we have something I had put together, Hot Taylor ham and american cheese on pretzel rolls!  You should try it!  And to wash that yummy concoction down, A nice cool Beer. Might I suggest todays special. Sam Adams Winter Lager!  A great seasonal brew!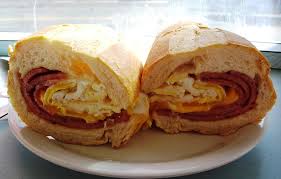 Ok I couldn't find a picture of pretzel bread, but you know what I mean. 
What Can I get you?
One of our customers to day told me she took her daughter to see The Trans-Siberian Orchersta in Philly over the weekend. She said it was a show that can't be missed. My daughter also went to the
same show and said it was awesome.  I haven't seen them, but am familiar with thier music. It's a neat blend of traditional music done electronically. Hightlights are the great electric guitars and electric violins. A real good sound. Have you heard them? Guess they're like the "Manheim Steamroller" on speed.  This genre seems to appeal to all folks.  Maybe thats what I have to do here for more business. Create fancy bar glasses that glow and make sounds…  yeah, maybe not.  LOL   I'll just have to put some of thier music in the jukebox. Have Charlene dance around with a flashlight!     –   Ok, honey – never mind – just kidding…    Well any way its neat stuff.
So I'm thinking of trying some new Holiday drinks… Here's one that might please the ladies.
http://www.whattodrink.com/DrinkRecipes/holiday-chocolate-milk-whip.asp
Now I'm not a fan of chocolate. (yeah I know, hate it actually) but this sounds good.  You have any suggestions? We'll have to see if our friend "Always" has a suggestion!
Signs You've Had Too Much Holiday Cheer
1. You strike a match and light your nose.
2. You take off your shoes and wade in the potato salad.
3. You hear a duck quacking and it's you.
4. You tell your best joke to the fake palm tree.
5. You refill your glass from the urinal.
6. You hear someone say, "Call 911!"
7. You start kissing the portraits on the wall.
8. You complain about the small bathroom after emerging from the phone booth.
9. You ask for another ice cube and put it in your pocket.
10. You tell everyone you have to go home… and the your party's here.
11. You have to hold on to the floor to keep from sliding off.
12. You pick up a roll, and butter your watch.
13. You yawn at the biggest bore in the room… and realize you're in front of the bar mirror.
14. You take out your handkerchief and blow your ear.
15. You suggest everyone stand and sing the national budget.
Vinnie tells us that he is going to have a special suprise for us soon. Hmmm, Wonder what that could be.  Guess we'll have to wait and see.  Last year it was home made sopressato.  We asked him for the recipe and he said "Gethefugoutahere".
Bud truck is coming in the lot. Gotta go.
Ciao